Welcome to Audio Bible Downloads
The Bible uses the word "hear" 4824 times and the word "listen" 441 times. If anything is clear, it's that God wants to be heard and listened to. It is no stretch at all to arrive at the conclusion that our greatest need is to integrate God's Word into our minds. While reading the Bible should never be replaced, at Audio Bible Downloads we believe that the benefit of being able to listen to the Bible allows us to integrate the Bible into our hearts many times more frequently.
AUDIO BIBLE BEST SELLERS
Now the NASB and HCSB complete audio Bibles also available in both a MP3 five CD set and around 65 of the older CD discs! See the specific HCSB or NASB version pages to purchase.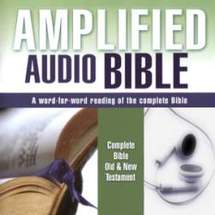 Narrator: Steven B Stevens
Breadth: Complete Bible
Sample:

$29.95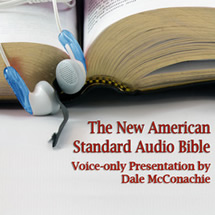 Narrator: Dale McConachie
Breadth: Complete Bible
Sample:

$27.95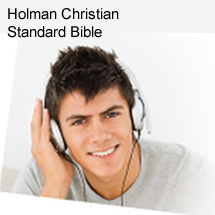 Narrator: Dale McConachie
Breadth: Complete Bible
Sample:

$20.95
One of the fondest memories of my childhood was my Mother taking time out of her busy day to read the Bible to me. The fact that her life reflected the character of the Bibles Author was powerful to me. Mom is what Christ referred to in John 8:31 "If you continue in My word, then you are truly disciples of Mine." At Audio Bible Downloads we offer audio Bibles in virtually any format and version available, to "let the Word of Christ richly dwell within you". I invite you to listen to the following narrators.
LISTEN TO AUDIO BIBLE NARRATORS
As Christians, our greatest need is to hear from God. At Audio Bible Downloads we want to provide a way for you to increase your understanding of your Creator.
No doubt, all of us remember someone such as a parent or teacher urging us to listen. While it is important to listen to many voices in life, when God urges us to listen...we do well to heed His pleadings. Audio Bible Downloads was created on the conviction that a God Who gave His only Son for us is worth listening to.
There are so many voices pining away for our attention today. Some good, some bad. While He walked the earth He spoke into existence, Jesus was adamant that we take great care to both what we hear and how much attention we pay. Audio Bible Downloads is committed to getting as much of what God has said to as many people as possible.