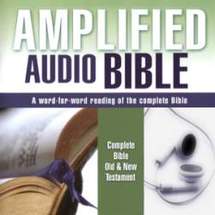 Presentation: Voice only
Breadth: Complete Bible
Format: Secure Mp3 download
Translation: A must have translation for the serious student of Scripture, the Amplified Bible sheds more of the original Greek meaning. This recording does the same.
Narrator: Steven B Stevens
Along with Stephen Johnston, no other person in history has recorded more audio Bibles then Steven B. Stevens. Among his recordings are the original NIV and NASB.